Group Sustainable Development Training
GIGABYTE began offering a series of sustainability courses between 2022 and 2023 to cultivate our employees' ESG and sustainability awareness. The courses were also made mandatory for certain positions. We hoped to strengthen our corporate sustainability culture by providing employees with a progressive introduction to core concepts in ESG and corporate sustainability practices.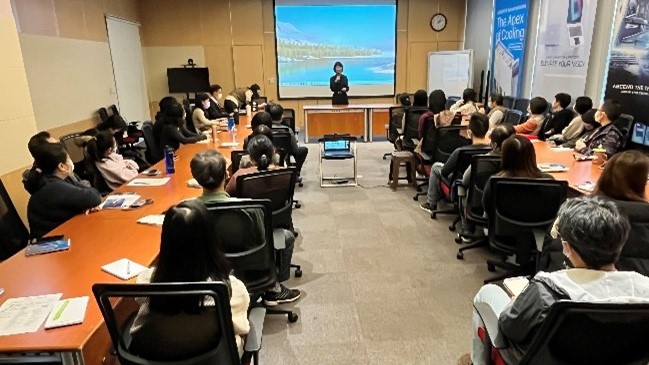 Dec 8, 2022
How Far ESG Is – Solutions for Businesses
Number of participants: 92
Tragedy of the horizon

Green swan effect


Rising importance of sustainability

CSR x SDGs x ESG

CSR Initiatives


4 case studies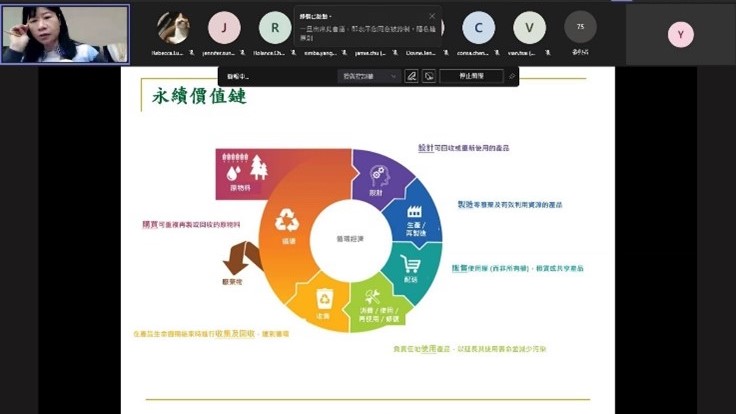 Feb 23, 2023
The Present and Future of Supply Chain – Sustainability, Digitalization, and Resilience
Number of participants: 77

An overview of the supply chain development trend in electronics industry

Supply chain sustainability challenges

Incorporating digital technology into supply chain management


Improvement of supply chain resilience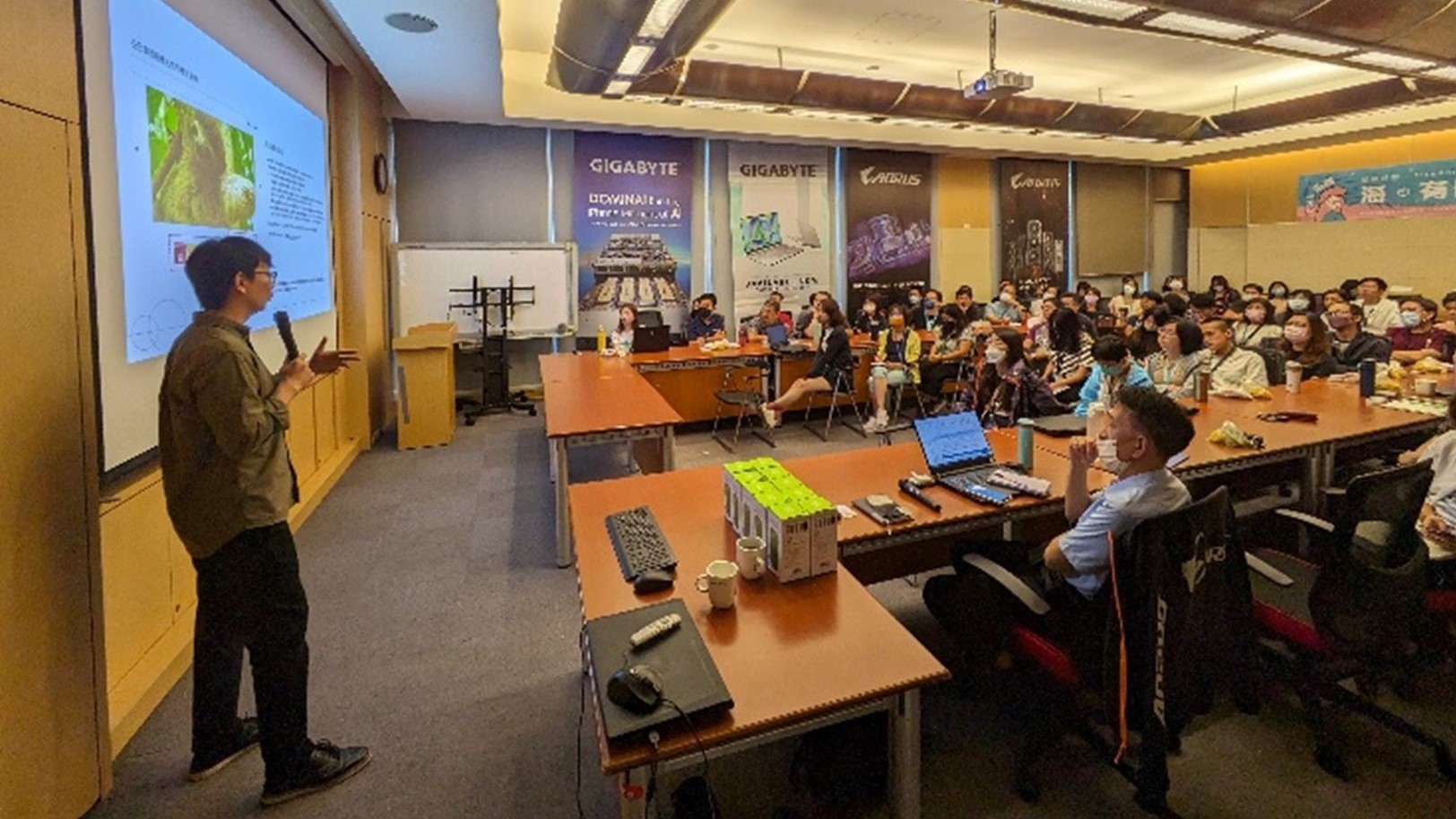 Jul 26, 2023
Carbon Exchange and Its Application in Corporate Management
Number of participants: 70

A "carbon credit" with two different implications
Status quo of carbon exchange mechanisms in Taiwan
Purposes of carbon credit trading from a business perspective
Celebrity Seminars for Ideas from the Heart
Technology and the environment are both changing at an increasing pace. New research on environmental issues are constantly emerging as well. As global citizens, we need to be alert to the latest trends and adjust our direction as necessary. "Celebrity Seminars" are therefore hosted by the Green Action Plan on selected environmental issues. Leading local academics or experts are invited to speak on these topics to keep all employees up to date on the latest environmental knowledge, and help them grasp the proper concepts and attitudes.
The seminars cover a diverse range of topics including energy-saving and carbon reduction, environmental design, sustainable corporate development, preservation of biodiversity, conservation of marine ecology, and the small farmer renaissance. Since 2018, we have held seminars covering the issues of hazardous substances in order to make staff more aware of the links between (external and internal) environmental issues and their health.
The seminars only provide with vegetarian lunch boxes instead of meat lunch boxes and also provide eco-friendly agricultural products as gifts for quiz winners. These actions look small and limited yet can create multiple effects.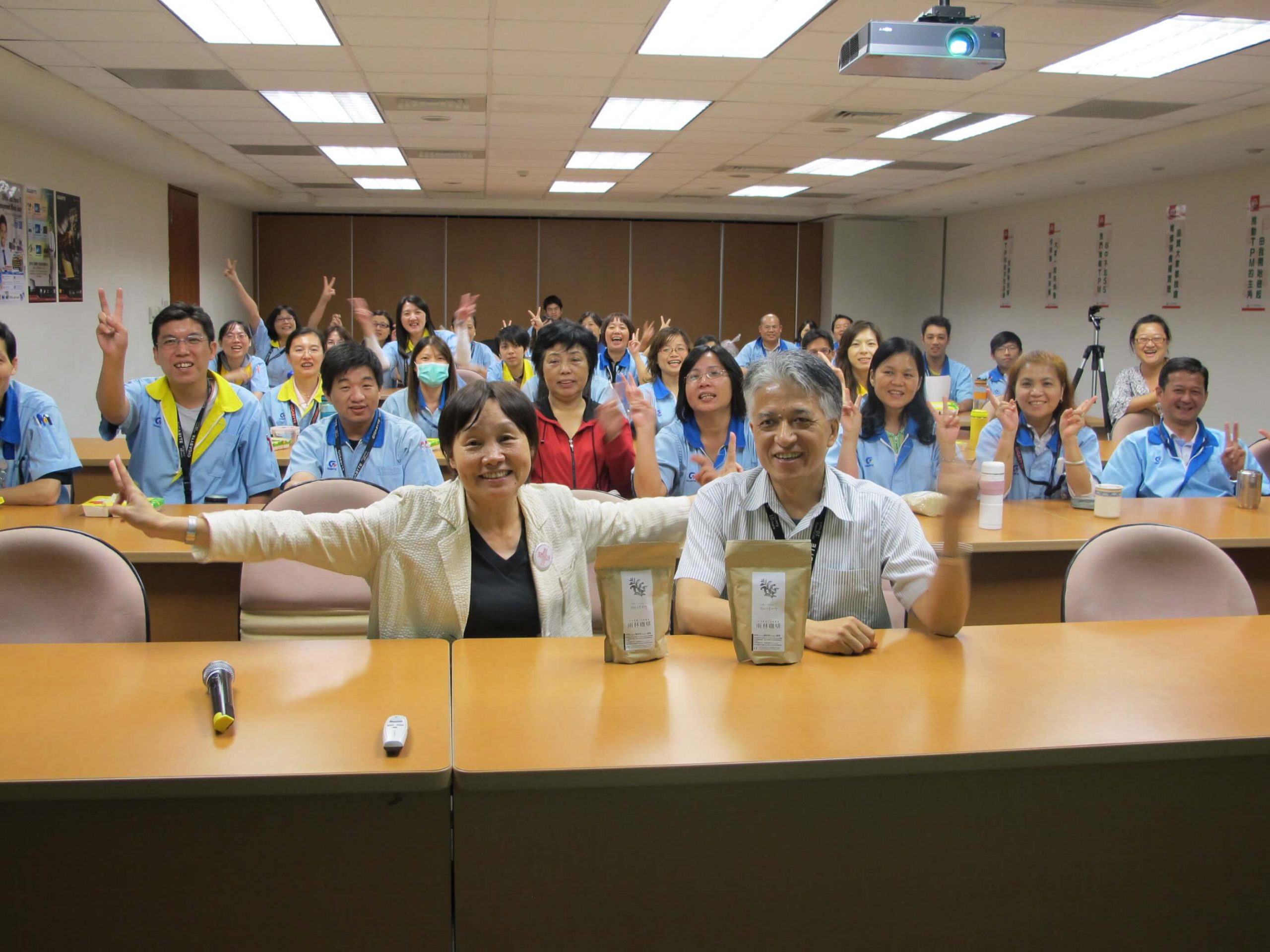 | | | |
| --- | --- | --- |
| Topic | Speaker | Service Organization |
| Love the Earth by Protecting the Environment | Prof. Shin-Cheng YEH | Graduate Institute of Environmental Education, National Taiwan Normal University |
| Challenges and Opportunities in the Low-Carbon Era | Chairman Dr. Eugene CHIEN | Taiwan Institute for Sustainable Energy |
| Sustainable Management Strategies | Prof. Yung-Shuen SHEN | Center of Holistic Education, Mackay Medical College |
| Global Green Sustainable Enterprise Challenge | Secretary-General Dr. Niven Huang | BCSD Taiwan |
| Do-it-Yourself LOHAS | Director Hsiu-Ju SUN | Environmental Trust Center, Taiwan Environmental Information Association (TEIA) |
| Indicators for a Low-Carbon Life | Deputy Executive Director Wim CHANG | Delta Electronics Foundation |
| Four-Season Vegetable Gardening | Prof. Ho-Ching LEE | Center for General Education, National Central University |
| Thinking about Coffee and Global Environment | Prof. Chin-Shou WANG | Center for General Education, National Tsing Hwa University |
| Global Change and the Need for Action | Lecturer Hsin-Wei LIU | Taiwan Environmental Information Association (TEIA) |
| CSR: Underlying New Business Opportunities | Lecturer Shiro Chu | Taiwan Environmental Information Association (TEIA) |
| Buy Groceries in an Eco Way | Writer Ka-Shiang LIU | Natural ecological writer |
| Threats of Endemic Fish in Paddies | Director Cheng-Kang LIU | Taiwan Native Fish Conservation Association |
| Photographing the Island We Called Home – Marine Resource Consumption and Conservation | Program Producer Li-Ping YU | TV Program "Our Land" of Taiwan Public Television Service Foundation |
| See through Macro photography Lenses – The Beauty of Ecological Taiwan | Lecturer Tung-Chieh LU | School of Forestry and Resource Conservation, National Taiwan University |
| Diligence – Chasing the Dream of Satoyama in Taiwan | Deputy Executive Director Ming-Yuan CHOU | Taiwan Ecological Engineering Development Foundation |
| Face the Climate Change – Companies'Tips | Dr. Chi-Ming PENG | WeatherRisk Explore Inc. |
| We Have the Final Say on Sustainable Future | Secretary-General He-Lin XIE | Taiwan Watch Institute |
| Impacts of Environmental Hormone on Human Health | Pro. Eileen Jea CHIEN | Department & Institute of Physiology, National Yang-Ming University |
| A Sail to the Pacific- Tracking Human's Plastic Footprint | Narrator Ming-Hui LIAO | Kuroshio Ocean Education Foundation |
| Low Carbon, Sustainability and Social Communication: The Core Thought and Strategy of Enterprise Sustainability | Prof. Shin-Cheng YEH | Graduate Institute of Environmental Education, National Taiwan Normal University |
| How to Surpass myself – Relink the Human with the Nature | Prof. Ju CHOU | Graduate Institute of Environmental Education, National Taiwan Normal University |
| A Compendium of Toxin-Free Living | Nurse Dan-Tsu LIN-TAN | Clinical Poison Center, Linkou Chang Gung Memorial Hospital |
| Environment, Diet and Cancer Prevention | Prof. Yue-Hwa CHEN | School of Food Safety, Taipei Medical University |
Environmental Education Hands-on Activities
Environmental protection can be easy and interesting! With "everyday environmental protection" as the theme, the Green Action Plan emphasizes the importance of hands-on practice. We organize many seminars and activities to enhance the environmental awareness of all employees while cultivating the necessary knowledge, attitude, and skills so they can take action at work and in everyday life right away. People can then practice environmental protection and combat global warming at all times. This will in turn influence their family and the whole society.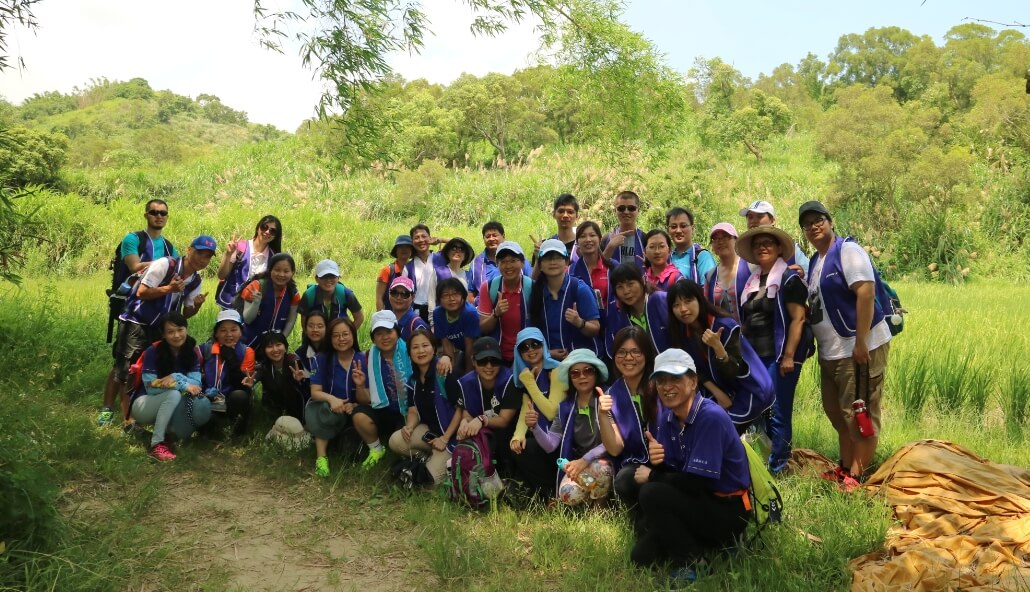 Save Energy and Reduce Emissions with Tzu Chi's 5 Good Deeds per Day
Greening: From Seed to Pot Plant
Saving Electricity: Green Collar Learning AAA
Beach Clean-up: Wetlands of Formosa
Saving Energy and Reducing Carbon Emissions to Save the Planet
Global Warming and Reactions to Global Warming
Cancer Prevention through Healthy Living, Global Warming Prevention through Environmental Protections
Creative Aesthetics vs. Practical Living
Record your Plastic Bag Usage
Drink Tea, Save the Dam
You Can Be an Energy Doctor
Green Planet and Clean Living with DIY Eco-friendly Enzymes
The Lesson Trees Can Teach Us: Concepts of Old Tree Conservation
How to Be a Good Tea Taster?
Trace the Antecedent of the Island: Exploring Geological Diversity of Taiwan
Rescue the Endangered Animals in Taiwan
Competition for Environmental Protection and Disaster Prevention Hero
Low-Carbon LOHAS and Ecological Care
Every corner in Taiwan has its own unique culture and environment. Local communities also develop their own way of living a low-carbon lifestyle. Green Action Plan organizes low-carbon LOHAS activities every year in order to motivate employees to support environmental protection while having fun. Employees can use visits to sustainable communities to slow down and experience the different ecological features and cultural wisdom of northern Taiwan communities. They can also savor the true meaning of LOHAS and ecological care.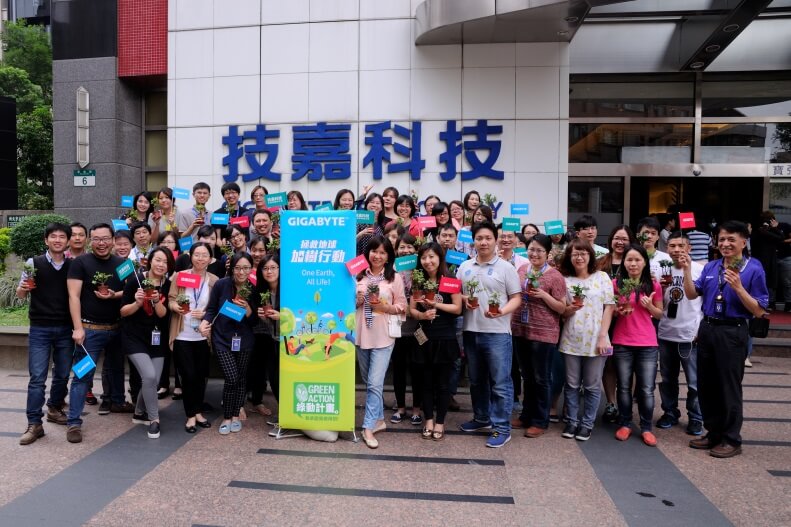 Experience the Environmental Culture of Tzu Chi Recycling Depots
Cloud Sea, Indigo Dye and Glow Worms
Pinglin River Conservation and Carbon-free Cycling
Earth Housing at Ergeshan
Low-Carbon LOHAS Culture Tour
Environmental Cultural Experience & Glow Worm Adventure
Century-Old Fishing Village and Sustainable Community
Low-Carbon Fish Conservation and Tea Exploration
Experience the Low Carbon Sungai Trip
Wulai Neidong Forest Walk
River Trekking
Trips to the Dam
Reviving Rice Terraces
Mangrove Forest Working Holidays
Night Adventure of Algal Reef
Embracing the Nature and Exploring the Countryside- Working Holiday
Depositing the Nature – Alibong Ecological Farm
Guarding Leopard Cats, Breeding Forests – Working Holiday
Hugging the Nature, Connecting Humans with Leopard Cates – Working Holiday
Love the Land and Guard the Leopard Cats – Working Holiday
Light Trip to Circular Agriculture Farm