We are facing the Threat from Plastics
According to American scientists, in 2010, coastal countries dumped approximately 8 million metric tons of plastic waste into the oceans. This figure may increase to 16 million metric tons a year within the next 10 years. Another international research team found that there are more than 5 trillion pieces of plastic waste floating in the ocean. These have a total weight of around 269,000 metric tons.
80% of marine plastics come from terrestrial sources. The gyres of trash pose a threat to human health as well. When the plastic trash turns into small fragments and is swallowed by marine organisms, the toxic ingredients in the plastic gradually accumulate inside the organisms. Hundreds of millions of pellets that make up plastics are washed into the sea every year. Marcus Eriksen, the director of Al-galita Marine Research and Education described how plastic trash "absorbed man-made chemical toxins like hydrocarbons and DDT like sponges" before entering animal bodies. Eventually, they end up on people's dining tables to impact our health and the health of our next generation.
Thousand Mile Trek – Go Green Taiwan
Walk around Taiwan on foot and safeguard the land by hand.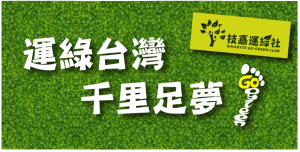 In 2015, a group of Earth lovers at GIGABYTE decided to express their love for the land through action. The Sustainable Development Office launched the "Thousand Mile Trek – Go Green Taiwan " to walk on foot around Taiwan in sections over 5-6 years. The trekkers would pick up plastic rubbish along the way. Don't underestimate the power of these small actions in our daily life because that may make big changes to the future. As long as we are ready to take action and make the sacrifice, then no matter how tiny our effort is, if everyone goes the extra mile then all kinds of possibilities open up.
Map of Thousand Mile Trek