Sound risk management is the basis of corporate sustainable development. By means of risk controlling and managing process, GIGABYTE first identifies 8 risk dimensions, including operation, finance, innovation, and information security, etc. Further, the potential impact scope of each risk is determined and the risks are assigned to responsible units for sound risk management measures based on their professionals and practical experiences in related fields.
Risk Management and Control Process

Measures of Risk Identification and Management
Information Security Management
In keeping with the GIGABYTE philosophy of "Upgrade Your Life", corporate information security governance has been introduced to our continued pursuit of corporate sustainability. The Information Security Committee was set up to devise an information security policy and management framework that takes international standards, regulatory requirements, privacy protection, risk management and crisis management into account. A total approach to information security management, planning, oversight and execution has been put into place. The Committee also reports regularly to the President on information security management activities and overall effectiveness of information security management organization.
Governance Organizational Framework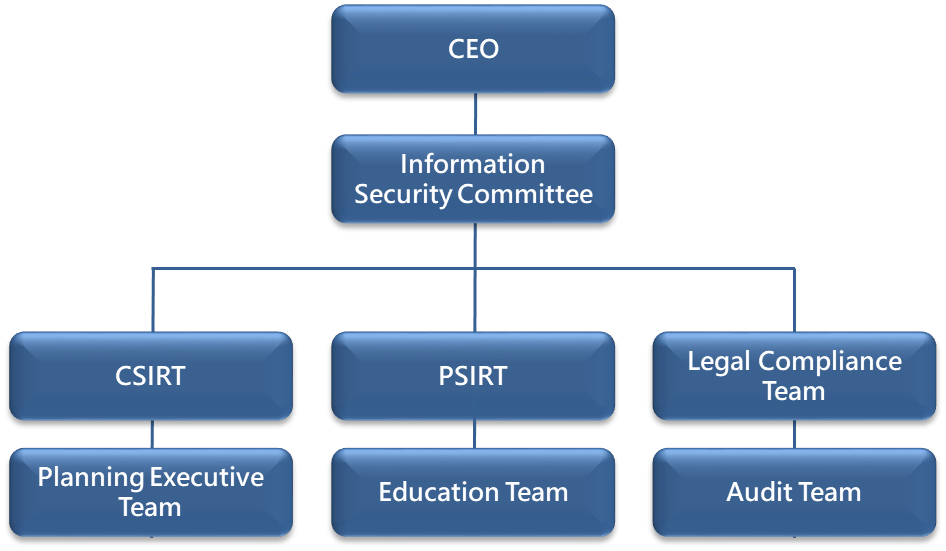 Management Goal and Outcome
One information security incident reporting and response drill was conducted to ensure proper division of labor and improve responsiveness.
In response to the growing number of BEC e-mail fraud, the following measure was adopted at the system level: Anti-fraud e-mail protect was implemented. For employee information security education and training: Two social engineering rehearsals were conducted.
Rigorous security measures were implemented due to employees working from home during the COVID-19 pandemic. Multi-factor authentication (MFA) was also introduced to ensure the security and integrity of information operations.