GIGABYTE builds a safe and friendly working environment for employees. We actively help employees to identify their own physical and mental health risks through a comprehensive health management plan, and provide tracking and improvement resources to enable employees to ascertain personal health management while contributing to the Company wholeheartedly at the same time. GIGABYTE hopes that every employee is healthy and happy.
GIGABYTE Health Management Plan
Tiered Management of Employee Health
Provide services including health exams, physician consultations, and occupational disease prevention and treatment
Establish a tiered health risk system and devise management actions for each level
Track health status and promote health improvement for employees with high health risks
Comprehensive Health Exams
Provide a variety of bonus packages for special health exams
Encourage particular groups to take early health exams and improve health by offering health exam subsidies
Effectively track employees who do not take health exams
Provide health education and medical information regularly and host health seminars and activities
Flu vaccination
Hold health-promoting activities for specific groups, e.g. LOHAS exercise courses for executive managers and core strength courses
Provide emergency first-aid, follow up and support
Replenish clinic and first-aid kits
Emergency response to the pandemic
Maternal health protection plan in the workplace
Employee Assistance Programs (EAP)
Continue distributing articles and EDM on diverse topics
Host seminars, workshops, and family excursions
Increase the level of EAP support and happiness of employees
Frontline of Health Care – Disease Prevention and Tiered Management
"Precision Prevention" is the core philosophy of GIGABYTE for employee health management. The promotion of health knowledge over e-mail regularly updated health exams, as well as medical consultation resources at each location were used to help employees identify their own health risks and the corresponding symptoms early. Professional nursing personnel then track and reach out to high-risk groups to enhance the physical health of all employees.
GIGABYTE provides health examination resources beyond legal requirements. We encourage employees to receive regular health exams and pay attention to their own health conditions. For those who have not taken the health exam within the statutory period, the occupational health nurse will remind employees of the obligation to accept the health exam and monitor their implementation. We also sign contracts with special clinics to provide additional preferential high-level health examinations at discounted rates, e.g. Heart Rate Variability (HRV), Fecal Occult Blood Test (FOBT), endoscopy, ultrasounds, and CAT, These give employees alternatives to receive more thorough health information and protection.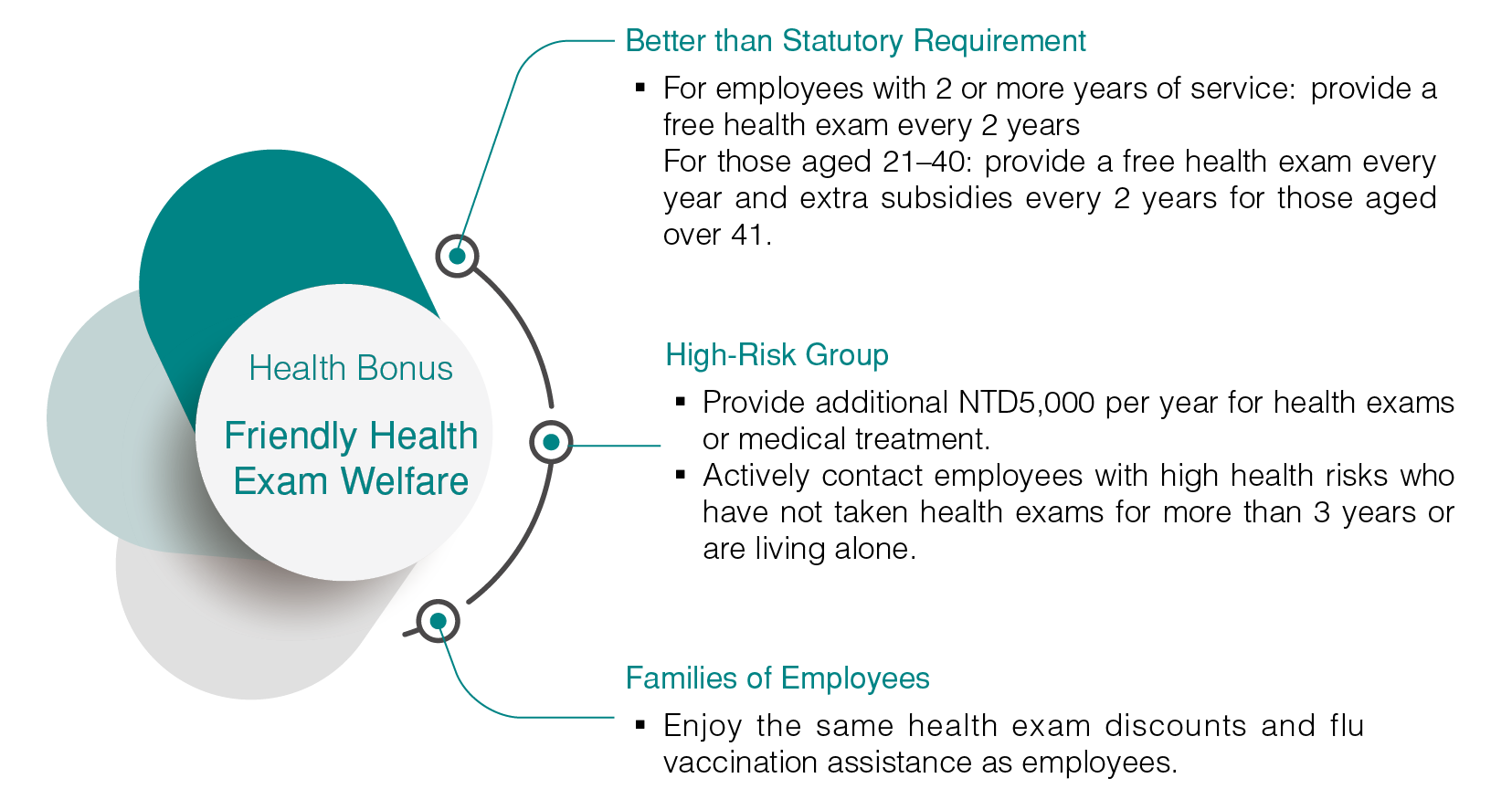 Rate of Employees Participating in Health Exams in the Past 2 Years
|   | Headquarter | Nangping Factory | Dongguan Factory | Ningbo Factory |
| --- | --- | --- | --- | --- |
| 2022 | 85.8% | 99.8% | 100% | 89.7% |
| 2021 | 91% | Postponed and not implemented due to the pandemic. | 100% | 100% |
After the annual health exam, occupational health nurses conduct health management, which classifies employees into 1-4 levels based on their health risk. Those employees and senior executives whose health exams show an abnormality in critical items, such as blood pressure, blood sugar, and blood lipids, are listed as level 4. For this high-risk group, exceptional follow-up management will be initiated, and follow-up processing mechanisms such as doctor consultation and health check follow-up will be actively arranged. In 2022, 23 out of the 79 employees classified as level 4 high-risk group due to health anomalies had improved in their health.
"GIGA-Health" health incentives were introduced in 2022 to encourage GIGABYTE employees to look after their health, develop healthy habits, actively seek medical assistance, as well as achieve the indicators for disease control and improvement. Employees who are classified as level 4 for any of these health indicators and have sought treatment, established healthy habits, and effectively brought the disease under control, and also can provide supporting proof within 3 years may apply and collect health recovery reward points once approved.
Most of the employees at GIGABYTE headquarters are "stationary office workers." Poor posture can easily result in musculoskeletal and eyesight damage. Workers in factories may experience pulled muscles and soreness from repetitive motion or heavy lifting.
In view of that, GIGABYTE establishes the "Ergonomic Hazard Prevention Plan" and "Disease Prevention Plan for People with Abnormal Workloads" to ensure desks, chairs, lighting, and ventilation are regularly checked for suitability and also track excessive work hours. Furthermore, through health exam reports, we identify the employees at risk of cardiovascular diseases, and change their working patterns or adjust their work hours according to the suggestions from doctors. In 2022, the survey, tracking, and management of work-related musculoskeletal symptoms covered 0 cases. Tracking of employees with high health risks due to workload and cardiovascular disease covered 77 employees.
Occupational Disease Statistics
| Occupational Disease Category | Number of Cases | Number of Affected Persons |
| --- | --- | --- |
| Fatal Occupational Disease | 0 | 0 |
| Recordable Occupational Disease | 0 | 0 |
Accelerator of Health Care – Health Promoting Activities
Healthy exercise habits and health awareness is not just the employees' own responsibility, companies shall also foster a healthy workplace culture. That is why exercising is promoted by GIGABYTE on top of basic disease prevention. We provide employees with fully equipped fitness centers and aerobics classrooms and organize diverse health-promoting activities to encourage employees to manage health management as well as exercise more for physical/mental well-being.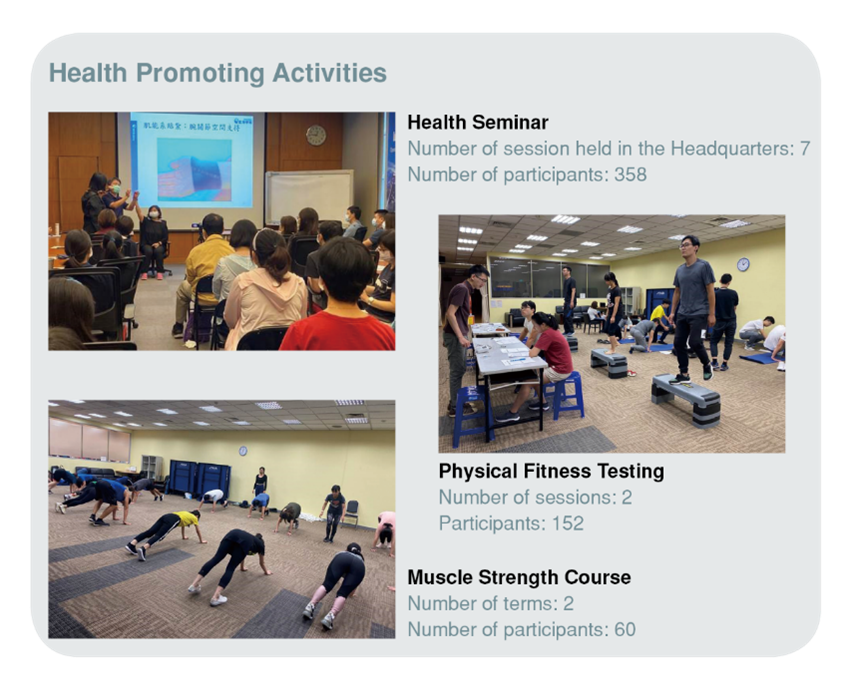 Protection Cover of Health-Comprehensive Health Care
Employee Assistance Programs (EAP)
Besides building a safe, healthy, and LOHAS workplace, GIGABYTE pays attention to the daily problems our employees would face and their needs for psychological counseling. We partner with external organizations to provide advanced counseling services about mental, legal, and financial issues. Employees can take part in confidential consultations through the dedicated website, information hotline, and e-mails. In 2022, EAP conducted 355 consultation sessions with an average satisfaction rating of 4.4 (out of 5).
GIGABYTE also regularly provides topical columns and related seminars in response to situations that employees may encounter in life or at work. A total of 16 topical support e-newsletters and EDMs were distributed in 2022, along with 11 sessions of stress management workshops, outdoor recreation, concerts and other activities. We hope to make EAP a part of employees' work and life and would enhance their happiness and positive energy to embrace the future.
Gender Friendly Workplace
Women account for nearly half of the GIGABYTE workforce. The "Workplace Maternal Health Protection Plan" was therefore formulated by GIGABYTE to promote facilities and systems more friendly to female employees and maternal health in the workplace. In 2022, GIGABYTE received the Excellent Enterprise Award for Gender Equality in Taoyuan City for promoting the fulfillment of CSR and gender equality policy.
Establish maternal protection measures. Dedicated nursing personnel regularly contact and care for pregnant employees.
Provide a "GIGA-baby Gift Pack" to employees who give birth to a baby. It included 6 practical baby products.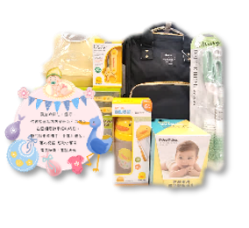 Both the Headquarters and Nanping Factory set up nursery rooms, which locations are clearly marked and on main passageways. The Access is via swipe card for the safety of pregnant women and mothers. The rooms are equipped with refrigerators, basins, sofas, and heaters to provide female employees with a convenient and comfortable space.
The use times of nursey rooms in 2022:  2,679
Additional childcare subsidies were introduced in 2021. Employees with children under 2 years old and with Taiwanese citizenship can receive NTD 3,000 per child every month. The employee may also apply for 2 hours of flex time.
GIGABYTE signs contracts with qualified kindergartens nearby and provides subsidies in order to make employees convenient to drop off  and pick up children.
Considering that the parking space around the Headquarters is limited, GIGABYTE sets up priority motorcycle parking exclusively for pregnant employees to avoid their risk exposures from looking for parking outside. This also loosens their stresses of getting to the office on time.
Application for Parental Leave with and without Pay
GIGABYTE provides female employees with a variety of statutory parental leave options, including:
Maternity leave: A certain number of days of paid or unpaid leave is provided before birth, after birth, or for miscarriages, upon the submission of a birth certificate or certificate of diagnosis issued by a hospital.
Prenatal checkup leave: Employees may apply for up to 7 days of paid prenatal checkup leave during pregnancy when they provide proof of clinic attendance.
Tocolysis leave: An employee may apply for tocolysis leave during pregnancy when they provide a doctor's certificate of diagnosis; salary is calculated as sick leave.
Male employees may apply for up to 7 days of paid prenatal checkup leave or paternity leave during their spouse's pregnancy. The Maternal Health Booklet, a certificate issued by hospitals, or a birth certificate can be used as supporting documentation when applying.
Employees may also apply for family leave if they must personally care for a family member. Salary is calculated as personal leave.
Return Rate of Parental Leave in 2022