GIGABYTE builds a safe and friendly working environment for employees. We actively help employees to identify their own physical and mental health risks through a comprehensive health management plan, and provide tracking and improvement resources to enable employees to ascertain personal health management while contributing to the Company wholeheartedly at the same time. GIGABYTE hopes that every employee is healthy and happy.
GIGABYTE Health Management Plan
Frontline of Health Care – Disease Prevention and Tiered Management
"Prevention is better than treatment" is the core philosophy of GIGABYTE for employee health management. With the most complete health examination program, the nurses regularly track and care for high-risk groups. The cooperation with on-site medical consulting resources assists employees in detecting health risks early and getting corresponding treatments.
Annual Health Examination and Tracking Mechanism
GIGABYTE provides health examination resources beyond the legal requirements. In addition, GIGABYTE signs contracts with special clinics to provide additional preferential high-level health examinations to provide employees with alternatives to receive more thorough health information and protection. In 2020, the Headquarter and three main factories all carried out annual health exams and provided additional health examination plans such as free physician consultation, fecal occult blood test, mammography, etc. We will continue to encourage employees to take health examinations regularly through promotion and supervision.
Number of Employee Participating Health Exams and Examination Rate
| | Headquarters | Nanping Factory | Dongguan Factory | Ningbo Factory |
| --- | --- | --- | --- | --- |
| Number of Employee Participating Health Exam | 1,125 | 836 | 586 | 530 |
| Examination Rate | 93% | 99.7% | 100% | 100% |
After the annual health exam, the occupational nurses classify employees' health into 4 levels. For any employee or high-level manager whose key health index like blood pressure, total cholesterol, and triglyceride are classified into level 4, a special follow-up and management such as consultations and health tracking will be launched. In 2020, GIGABYTE starts to offer "high-risk medical stipends" for the employees classified as level 4. We hope to reach all-employee health management through these various measures.
Accelerator of Health Care – Health Promoting Activities
GIGABYTE attaches importance to exercises, supports sports clubs, and organizes a wide variety of health seminars. We know that the cultivation of healthy exercise habits and good knowledge of health management is not just the individual responsibility of employees but also can be fostered through sound conditions provided by companies. A series of health-promoting activities are therefore organized on top of basic disease prevention to increase the amount of weekly exercise among employees and help them rejuvenate physically and mentally.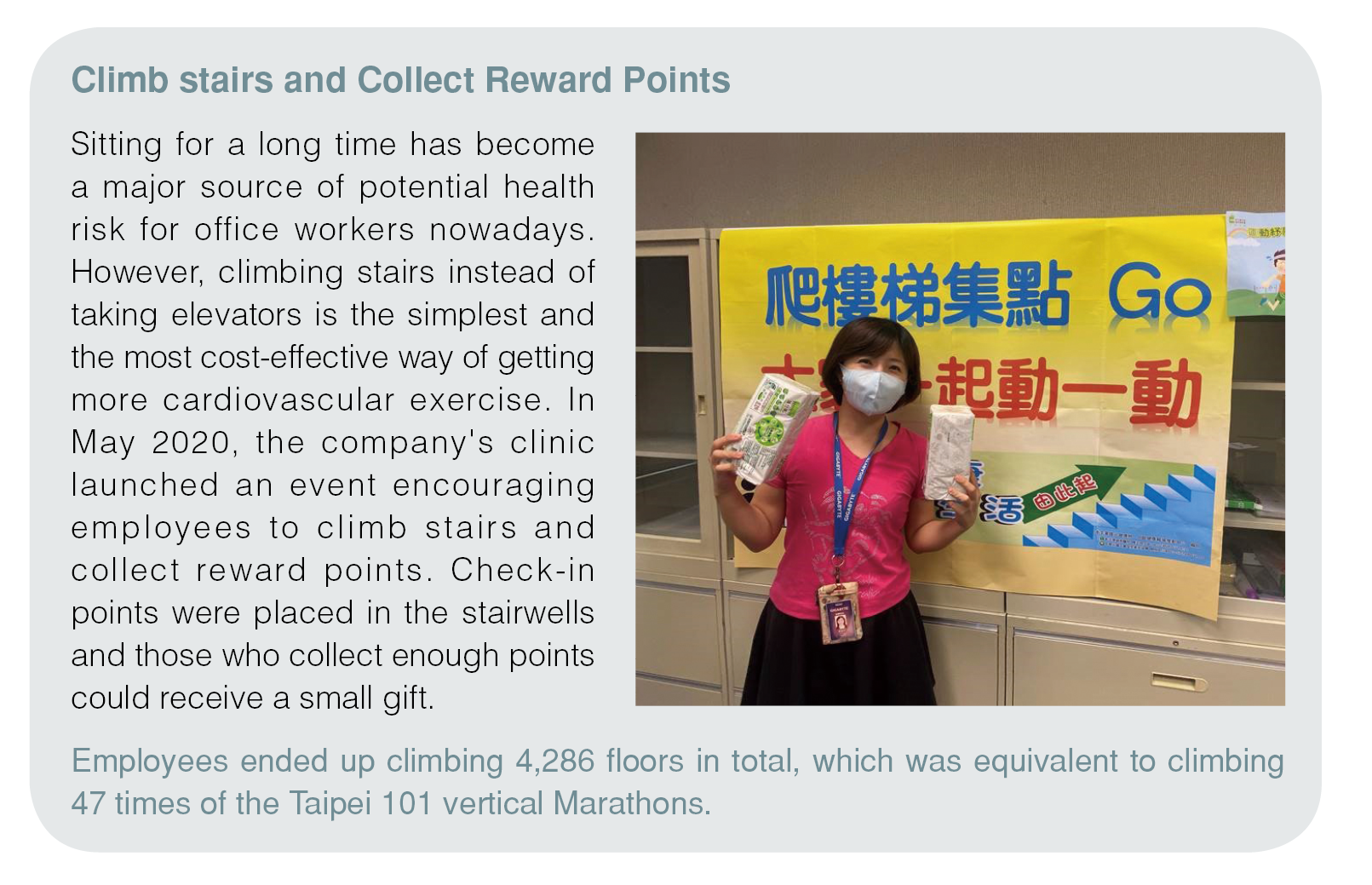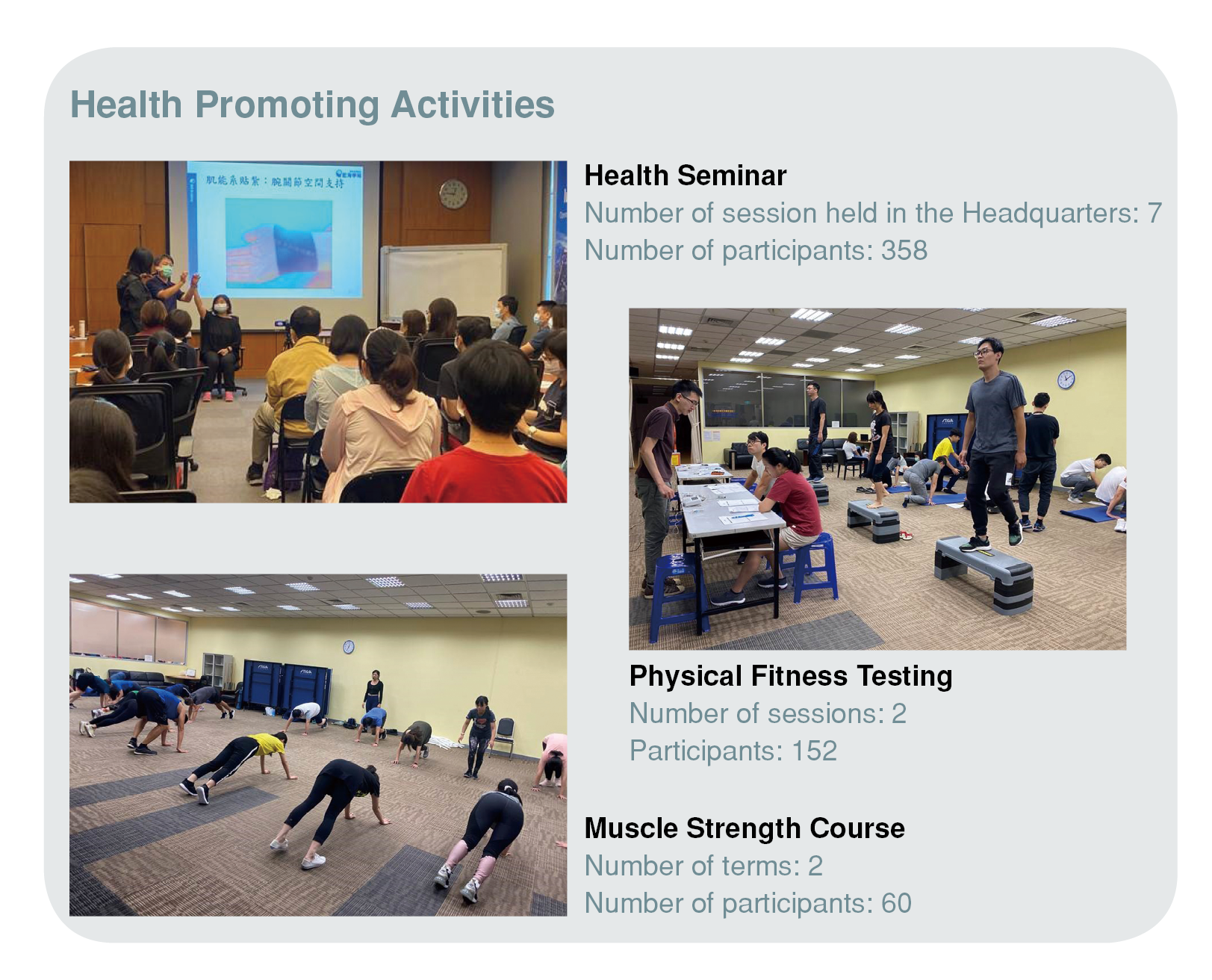 Protection Cover of Health-Occupational Diseases Prevention
Employee Assistance Plan (EAP)
Besides building a safe, healthy, and LOHAS workplace, GIGABYTE pays attention to the daily problems our employees would face and their needs for psychological counseling. We partner with external organizations to provide advanced counseling services about mental, legal, and financial issues. Employees can take part in confidential consultations through the dedicated website, information hotline, and e-mails.
GIGABYTE offers monthly topical columns and annual seminars that respond to diverse life issues our employees may encounter.
Overwork and Ergonomic Hazard Prevention
Most of the employees at GIGABYTE headquarters are "stationary office workers." Poor posture can easily result in musculoskeletal and eyesight damages. Workers in factories may experience pulled muscles and soreness from repetitive motion or heavy lifting. In view of that, GIGABYTE establishes the "Ergonomic Hazard Prevention Plan" and "Disease Prevention Plan for People with Abnormal Workloads" to ensure desks, chairs, lighting, and ventilation to be regularly checked for suitability and also track excessive work hours. Furthermore, through health exam reports, we identify the employees at risk of cardiovascular diseases, and change their working patterns or adjust their work hours according to the suggestions from doctors.
Occupational Disease Statistics
| Occupational Disease Category | Number of Cases | Numer of Affected Persons |
| --- | --- | --- |
| Fatal Occupational Disease | 0 | 0 |
| Recordable Occupational Disease | 0 | 0 |
Gender Friendly Workplace
Nearly half of GIGABYTE's employees are female, and most of them are of childbearing age. Therefore, creating workplace facilities and systems friendly for females or employees with motherhood is our priority.
Diverse and Complete Maternal Friendly Measures