Morality and integrity have been the core corporate culture of GIGABYTE since its foundation. We believe that operating with integrity and taking the responsibility to the society into account is also essential for corporate sustainable development.
GIGABYTE draws up the "Code of Integrity Management" and complies with the Responsible Business Alliance (RBA) publicly, self-examines with the highest corporate ethical code of conduct, and establishes the Code of Business Conduct with reference to RBA to guide equal and safe working environment, legal compliance obligation, external business activities, and corporate asset protection. To urge employees to abide by this Code, GIGABYTE requires every new employee to sign the "Employee's Ethical Code of Conduct", and also provide education training of anti-corruption, intellectual property rights, etc., to shape an emphasis on morality and integrity by the whole Company's members.
GIGABYTE Code of Business Conduct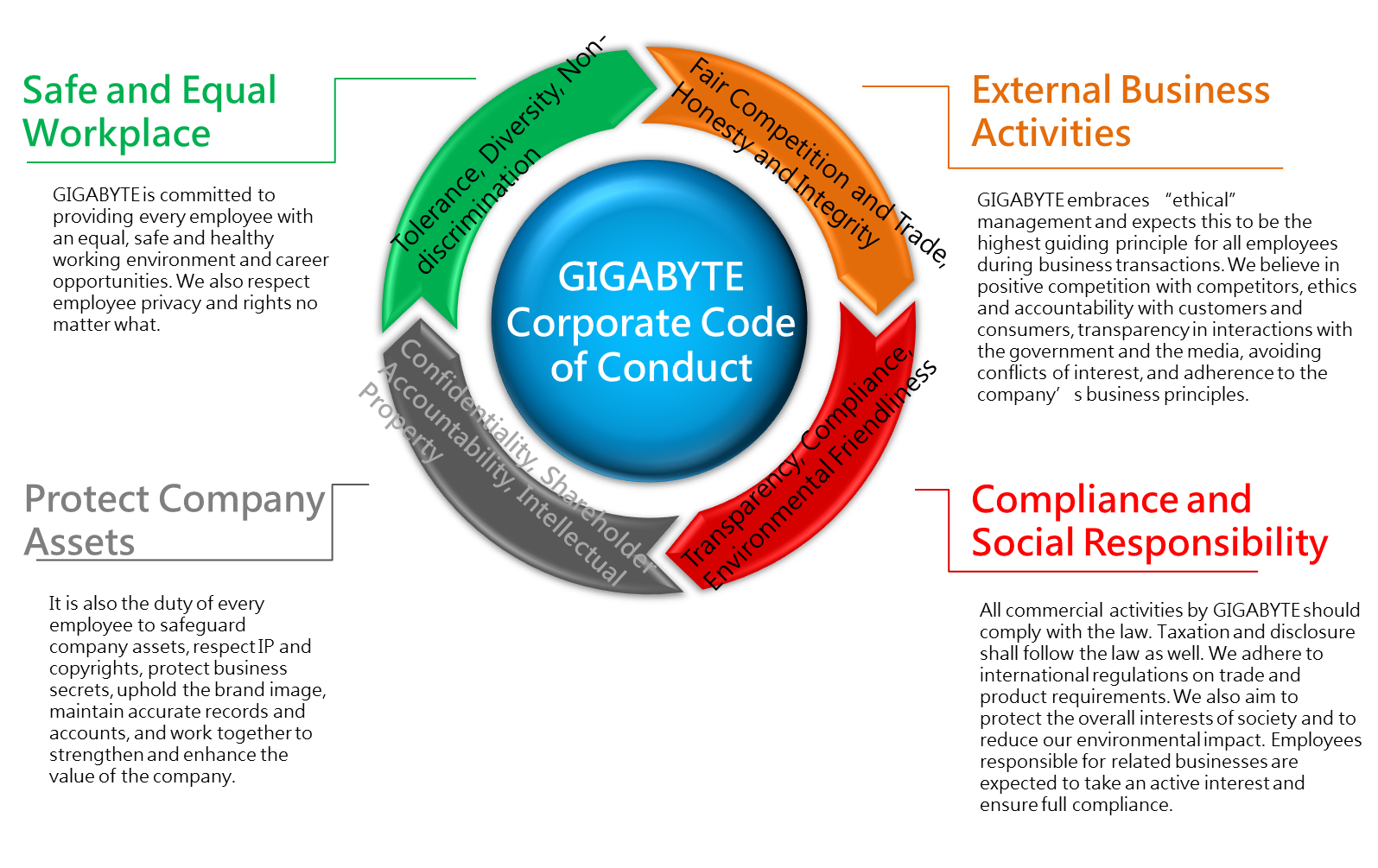 Download the GIGABYTE Code of Business Conduct[

English

]
1. Giving and Taking of Bribes
GIGABYTE and GIGABYTE personnel shall not directly or indirectly offer, promise to offer, request, or accept any improper benefits in whatever form to or from clients, agents, contractors, suppliers, public servants, or other stakeholders. 
2. Offering of Illegal Political Contributions
GIGABYTE personnel shall not directly or indirectly provide contributions or funds to political parties or individuals participating in political parties, or support or fund the organizing, fund raising, or personnel affairs organization of political activities in whatever form. No political contributions were made by GIGABYTE between 2019 and 2022.
3. Improper Contributions to Charity or Sponsorships
When making or offering contributions or sponsorship, GIGABYTE and GIGABYTE personnel shall comply with relevant laws, regulations, and internal operational procedures, and shall not surreptitiously engage in bribery.
For the list of donations or payments made by the GIGABYTE Education Foundation, please click the link .
4. Offering or Acceptance of Unreasonable Gifts, Hospitality, or Other Improper Benefits
GIGABYTE and GIGABYTE personnel shall not directly or indirectly offer or accept any unreasonable presents, hospitality, or other improper benefits to establish business relationships or influence commercial transactions.
5. Infringement of Trade Secrets, Trademarks, Patents, Copyright, and Other Intellectual Property Rights.
GIGABYTE and GIGABYTE personnel shall observe applicable laws and regulations, internal operational procedures, and contractual provisions concerning intellectual property; and may not use, disclose, dispose, or damage intellectual property or otherwise infringe upon intellectual property rights without the consent of the intellectual property rights holder.
6. Engaging in Unfair Competition.
GIGABYTE shall engage in business activities in accordance with applicable competition laws and regulations, and may not fix prices, make rigged bids, establish output restrictions or quotas, or share or divide markets by allocating customers, suppliers, territories, or lines of commerce.
7. Preventing Products and Services from Damaging Stakeholders.
GIGABYTE and GIGABYTE personnel shall observe applicable laws and regulations and international standards in the course of research and development, procurement, manufacture, provision, or sale of products and services to ensure the transparency of information about, and safety of, their products and services. They shall also adopt and publish a policy on the protection of the rights and interests of consumers or other stakeholders, and carry out the policy in their operations, with a view to preventing their products and services from directly or indirectly damaging the rights and interests, health, and safety of consumers and other stakeholders.
Ethics and Integrity Training
New Employee Training
Ethical corporate management is one of the most important components of the GIGABYTE culture. It is therefore extensively covered during orientation training to ensure that every new employee understands the spirit of the "Corporate Code of Conduct." New employees must undergo 6 hours of orientation training on topics such as introduction to the Group, brand vision, core competency, health, and benefits. They also receive sustainability and character education in ethics, legal affairs, green quality policy, and AEO. Plant employees in particular are educated on the Responsible Business Alliance (RBA). Additional oriental training is tailored to different roles and plant areas to ensure that newcomers can settle into their new roles as soon as possible.
On-the-job Training
For employees, GIGABYTE continually provides training on ethical management, including internal audit and controls, accounting system, and ethical management, based on the requirements of their roles such as manager levels, professional levels, or foreign employees. The courses are to ensure that every employee understands GIGABYTE's vision and mechanism of integrity management.
Accomplishment in 2022
Sound Grievance Channels
Safe and anonymous grievance channels are provided to employees in addition to proactive training and education. The highest level that employees can send suggestions or complaints to is the vice president. Once receiving a complaint, it will be treated on a case-by-case basis and disciplinary actions will be taken if necessary. The range of complainants also expands to distributers to ensure that employees always adhere to the ethical boundaries for business dealings. The Company promises that employees would not suffer demotion, penalty, or other adverse consequences even if their compliance with the ethical rules results in business losses. We hope this would support building an anti-corruption environment. In 2022, GIGABYTE was fined twice by the authority for violating the Labor Standards Act. Increasing orders in the year required manpower; however, employee afterword led to insufficient manpower. To prevent recurrence of violations, the relevant responsible departments have taken improvement measures. There were no violations of ethics and integrity or serious violations of the law at GIGABYTE in 2022. (For more stakeholder communication channels, please refer to GIGABYTE Investor Website)
Reporting on breaches
| Reporting areas | Number of breaches in 2022 |
| --- | --- |
| Corruption or Bribery | 0 |
| Discrimination or Harassment | 0 |
| Customer Privacy Data | 0 |
| Conflicts of Interest | 0 |
| Money Laundering or Insider trading | 0 |