GIGABYTE has introduced various innovative materials, technologies, and meticulous management mechanisms at various stages of the product life cycle in order to facilitate the outstanding performance of the product with high efficiency and stable durability. Moreover, the design stage takes circular economy as its core, it will contribute to moving towards our zero-waste goal.
Design of High-Performance and High-Efficiency Products
After launching the Ultra Durable Motherboard in 2007, GIGABYTE progressively introduced innovative technologies such as energy-saving switches, 2X copper PCBs, and high current capable components that boosted motherboard stability and extended product service life. The latest Smart Fan 5 and Water Force water-cooling technologies provide a major boost to graphics card performance. In addition, GIGABYTE took the lead in supporting CEC 2019 (California Energy Commission device energy efficiency standards) by using high-quality hardware and a fine-tuned BIOS design to lower the power consumption even more. GIGABYTE is continuing to apply for more international energy efficiency certifications to improve the credibility of energy-saving data and provide consumers with comprehensive protection.
GIGABYTE Eco-Friendly Technique Development

2006
All-Solid-State Capacitor Motherboard
All-solid-state capacitor design extends product service life.

2007
2nd Generation Ultra Durable Motherboard
Effectively reduce power loss and operating temperature.

2008
Dynamic Energy Saver
Enable or disable Dynamic Energy Saver at the touch of a button.

2009
Ultra Durable™ 3rd Motherboard
2 oz pure copper PCB layer dissipates motherboard heat and reduces temperature more effectively.

2010
24-Phase Power Design
Improve heat dissipation and effective power distribution.

2011
Ultra Durable™ 4th Motherboard
Executive features prevent PC malfunction due to environmental issues.

2012
Ultra Durable™ 5th Motherboard
The use of components with ultra-high resistance provides up to 95% power conversion efficiency, low power consumption, low heat, and a longer lifetime.

2013
Ultra Durable™ 5th Plus Technology
Integration of high-quality components and efficient energy-saving function provides high-performance system operation, lower heat, and extends motherboard lifespan.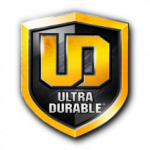 2014 / 2015
Ultra Durable Motherboard
Strengthen heat dissipation of motherboard in order to achieve high performance and stability at low temperature while the system works at full capacity and maximum frequency.

2016
Smart Fan 5 Cooling Solution
Improve motherboard temperature monitoring and cooling to reduce the amount of time that computer components spend at high temperatures and extend their service life.

2017
Anti-sulfur
Grant the ultra-durable motherboards brand-new values with the proprietary anti-sulfur technique. It can prevent the sulfide in the air from penetrating the built-in resistor of the motherboards and causing short circuits.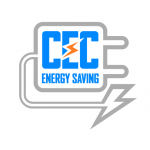 2019
Early Adopter of CEC 2019
With higher efficiency, higher quality hardware materials, and carefully calibrated BIOS, GIGABYTE motherboards consume less power in standby mode when compared with other products.

2020
Extreme Waterforce Thermal Design
Extreme waterforce motherboards use all-in-one water-cooling monoblock that covers both CPU, VRM, SSD, and PCH areas. The design ensures stability, low temperature, and noise avoidance under full loading application and gaming.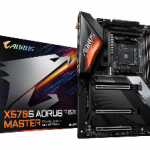 2021
Fanless Chipset Design
The reconfiguration of hardware circuitry and enlargement of chip heatsinks allowed the entire chipset to be upgraded to a fanless cooling design. This not only solves the problem of fan noise but also helps to avoid the tendency for passive cooling systems to become clogged by dust.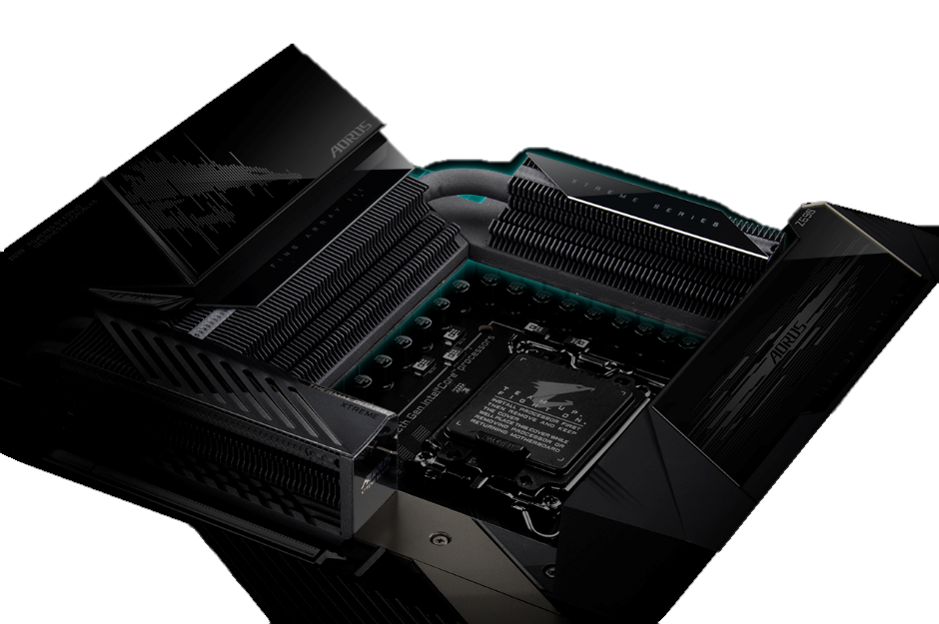 2022
Gen 3 Fins-Array Design
The all-new 3rd generation Fins-Array provides extreme cooling performance through irregular extended fins that provide nine times the cooling surface than conventional heatsink designs. The increase in heat exchange surface delivers optimal thermal transfer and waste heat conversion.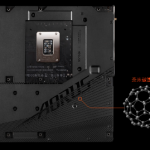 2023
NanoCarbon Baseplate
The motherboard bottom is equipped with a nano-carbon coating back plate with high thermal conductivity. It can transfer the waste heat generated by the PWM components to the heat dissipation back plate through the heat pipe, and use the nano-carbon coating with excellent thermal conductivity to quickly cool down. The overall heat dissipation performance is enhanced from the back, effectively reducing the temperature of the PWM components on the back of the PCB by 10%.
Green Data Center Solutions
In response to the growing demand for data centers from all sectors, GIGABYTE began assisting customers with deploying different types of immersion cooling data centers in 2021. Our solutions have since won praise from academic, scientific research, government, and industry customers. Investment and support for immersion cooling computing solutions were further expanded in 2022 with the introduction of off-the-shelf, turn-key single-phase immersion cooling computing solutions that offer advantages such as breakthrough cooling performance, high-performance computing, mobile deployment, and high scalability. Our solution effectively reduces energy consumption and helps users realize the net zero carbon emissions goal.
For more information on system cooling solutions, please refer to the GIGABYTE website.
One-Phase Immersion Cooling Solution
Two-Phase Immersion Cooling Solution
Friendly Packaging Materials
GIGABYTE continues to streamline packaging, increase the ratio of recycled materials used, and replacement of polystyrene padding materials in order to reduce the consumption of packaging materials and the waste they subsequently produce. We began analyzing our packaging recovery rate and composition in 2011, and reduction progress is reviewed every year. In 2021, GIGABYTE launched the "Product Packaging and Incoming Packaging Reduction Plan". Non-use of disposable packaging materials from 2030 onwards was set as the ultimate goal.
GIGABYTE eliminated printed user manuals for all motherboards and retained just essential quick installation guides in 2022. Detailed instructions and configurations are now presented via a QR Code. The change reduced not only paper consumption and waste but also the need for non-environmentally friendly processes, such as color printing, gluing, and lamination of manual cover pages.
GIGABYTE makes every effort to avoid excessive packaging while maintaining a certain level of protection. The total weight of packaging used by products in recent years has started declining. In 2022, GIGABYTE used 5,494.7 metric tons of paper and 285.6 metric tons of plastic in packaging materials, a reduction of 60.43% compared to 2011. The recycling ratio for packaging was 95.1%, and we will continue with further reductions in the future in order to realize our goal.
Recyclability Rate and Composition of Packaging in Recent 5 Years
Quantity of Used Paper-based Packaging
Quantity of Used Plastic-based Packaging